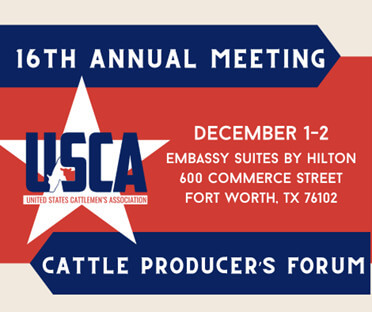 The 16th Annual Meeting & Cattle Producer's Forum, held this December 1-2, 2023 at the Embassy Suites in downtown Fort Worth, will bring our nationwide membership together to discuss the past year's successes and our priorities for the year ahead.
Producers from across the U.S. will meet to discuss policy resolutions, nominate regional Board of Directors candidates, and hear updates on USCA's actions and work over the past year.
Following the Business Meeting, join us for the Cattle Producer's Forum. This isn't your Grandfather's cattle convention! You can expect a more interactive program, with panel discussions, workshops, and more.
The Forum, originally designed to bring together producers from all organizations for a single conversation on the status and future of the industry, will examine the main issues affecting producers today.
Schedule:
Friday, December 1:
8:00am – 12:00pm: Policy Committee Meetings
12:00pm – 1:00pm: Hosted Beef Luncheon
1:00pm – 4:00pm: Annual Meeting of Members
5:00pm – 7:00pm: Banquet Dinner & Live Auction

Saturday, December 2:
8:00am – 4:00pm: Join us for the main stage programming. We'll invite industry leaders to share their expertise with us in a conversational format
Registration:
Includes access to all meetings, hosted lunch, and cattlemen's reception.

– $175 for USCA Members
– $300 for Non-Members, includes annual USCA membership. 
– $100 for Single Day Pass
Hotel:
Embassy Suites, 600 Commerce Street, Fort Worth, TX 76102

Room reservations may be made by clicking HERE. To take advantage of USCA's special rate, please book before November 9, 2023. Reservations made after the cutoff date are on a first-come, first served basis. Complimentary breakfast and evening reception provided daily!
Sponsorship:
Interested in partnering with us on this event?

Reach out to Mary Jo Foley-Birrenkott at maryjo@wssdc.com.