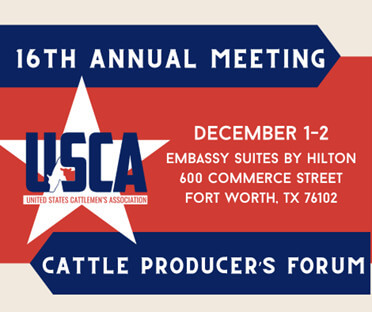 The 16th Annual Meeting & Cattle Producer's Forum, held this December 1-2, 2023 at the Embassy Suites in downtown Fort Worth, will bring our nationwide membership together to discuss the past year's successes and our priorities for the year ahead.

Producers from across the U.S. will meet to discuss policy resolutions, nominate regional Board of Directors candidates, and hear updates on USCA's actions and work over the past year.

Following the Business Meeting, join us for the Cattle Producer's Forum. This isn't your Grandfather's cattle convention! You can expect a more interactive program, with panel discussions, workshops, and more.

The Forum, originally designed to bring together producers from all organizations for a single conversation on the status and future of the industry, will examine the main issues affecting producers today.
---
SCHEDULE:
Agenda subject to change, please check back for the latest happenings!

FRIDAY, DECEMBER 1
7:00am – 10:00am: Registration

8:00am – 8:45am: Setting the Stage: What's Up in Washington, D.C.?
    
8:45am – 9:45am: Update on USCA's Meat Demand Monitor, with Dr. Glynn Tonsor of Kansas State University  

9:45am – 10:30am: Commodity Futures Trading Commission Chairman Rostin Behnam

 10:30am – 12:00pm: Policy Committee Meetings:
10:30am – 12:00pm: Marketing & Competition, Animal Health & ID
10:30am – 12:00pm: Independent Beef Processors, Labeling, and Trade
10:30am – 12:00pm: Checkoff, Transportation, and Public Lands & Environment

12:00pm – 1:00pm: Keynote Address by Texas Agriculture Commissioner Sid Miller

1:00pm – 1:45pm: Fireside Chat with Representatives from CME Group

2:00pm – 2:30pm: Board of Directors Meeting

2:30pm – 4:30pm: Annual Meeting of Members
Policy Resolutions and other business as needed.

5:30 – 7:30pm: Dinner & Live Auction Fundraiser

SATURDAY, DECEMBER 2
7:00am – 10:00am: Registration

8:30am: Welcome & Introductions
Greetings from Texas Elected Officials
Welcome Remarks by USCA President Justin Tupper

9:00am – 10:00am: Undersecretary for Marketing & Regulatory Programs Jenny L. Moffitt, U.S. Department of Agriculture

10:00am – 11:00am: Managing Risk and Making Decisions in Today's Market: Panelists will explore strategies, tools, programs, and best management practices that producers can use to minimize risk and maximize profit. All attendees will receive a one-year complimentary subscription to BeefBasis.com (a $240 value).

PANELISTS:
– Brett Crosby, Custom Ag Solutions
– Tait Berlier, Ag Risk Advisors

11:15am – 12:00pm: Maximizing Carcass Value & Improving Human Health with Better Fed Foods Improve your soil health and animal performance with sustainable products and practices, while maintaining supply chain traceability using blockchain technology to provide even greater transparency for you and your customers.  

SPEAKER:
– Bernie Hansen, Better Fed Foods

12:00pm – 1:00pm: Beef Luncheon

1:00pm – 2:00pm: U.S. Department of Agriculture Farm Service Agency Administrator Zach Ducheneaux

2:00pm – 3:00pm: Emerging Issue: mRNA Technology in Livestock Vaccines A viral tweet issued earlier this year called attention to the use of mRNA technology in livestock vaccines. Though there are no mRNA vaccines licensed for use in beef cattle in the U.S., there is ongoing research and development underway to bring a product to market. Proponents of the technology cite faster manufacture and deployment of vaccine in endemic situations, such as a foot-and-mouth disease outbreak. Opponents of the technology point to the lack of publicly available knowledge on how the short- and long-term impacts of vaccines utilizing mRNA technology on both the health and well-being of the animal  of the humans who consume the resulting meat products. This panel discussion will explore both sides of the issues and how the industry can ensure animal, consumer, and environmental health and safety.

SPEAKERS:
– Dr. Andy Schwartz, DVM, State Veterinarian and Executive Director of the Texas Animal Health Commission
– Dr. Brooke Miller, past president, U.S. Cattlemen's Association; Board-Certified Family Physician; Owner/Operator, Ginger Hill Angus
– Dr. Richard Urso, M.D., Houston, TX

3:15pm – 4:00pm: Emerging Issue: What You Really Need to Know About the Carbon Market: Carbon credits hold enormous potential, as intentions are to reward and incentivize land stewardship. However, this is a new and emerging market with a "pay-for-performance" model that can include obscure contracts and/or require large operational changes that require informed decision making and in-depth risk assessment by landowners before committing. This "what you need to know" session aims to help ranchers make informed decisions regarding carbon contracts.

HOSTED BY:
Good Grazing Makes Cent$

4:00 – 4:30pm: Putting it All Together: A Profitable Future for the U.S. Cattle Industry

4:45 PM: Drawdown Raffle Winner Announced!
---
REGISTRATION:
Registration fees include two luncheons, all-day coffee and snacks, access to all programming and the Cattlemen's Dinner and Live Auction on Friday evening.

– $75 for Students
– $175 for USCA Members
– $300 for Non-Members, includes annual membership dues. 
– $100 for Single Day Pass

Additional meal tickets for a spouse or guests may be purchased on site.

---
DRAWDOWN RAFFLE:
Win a Kubota RTV 850 Sidekick (MSRP $14,499)! Purchase one ticket for $100, or two for $160. ONLY 500 TICKETS WILL BE SOLD.

During a drawdown raffle, all sold tickets are individually drawn at random during the event. Drawn numbers are eliminated. The last ticket holder wins the grand prize! A runner-up prize, valued at $1,000, will be awarded, along with prizes awarded for every 25th ticket drawn.

Contact your Regional Director or call Maggie at (605) 569-6857 to secure your tickets.
---
HOTEL:
Embassy Suites, 600 Commerce Street, Fort Worth, TX 76102

Room reservations may be made by clicking HERE. To take advantage of USCA's special rate, please book before November 14, 2023. Reservations made after the cutoff date are on a first-come, first served basis. Complimentary breakfast and evening reception provided daily!
---
Interested in partnering with us on this event? For more information, reach out to Mary Jo Foley-Birrenkott at maryjo@wssdc.com.
---
SPEAKERS:
Tait Berlier, Ag Risk Advisors

Brett Crosby, BeefBasis.com

Dr. Glynn Tonsor, Kansas State University

Sid Miller, Texas Agriculture Commissioner

USDA Undersecretary for Marketing & Regulatory Programs Jenny Moffitt

Commodity Futures Trading Commission Chairman Rostin Behnam

Texas State Veterinarian Dr. Andy Schwartz

USDA Farm Service Agency Administrator Zach Duchenneaux

Dr. Brooke Miller, Board-Certified Family Physician

Jake Gross, E3 Meats and Better Fed Foods

Steve Williams, Better Fed Foods